"Smooth seas do not make skillful sailors." – African Proverb
In three decades as a family-owned general contractor, HB has delivered hundreds of successful projects for education, healthcare, government, and private clients. While every job required hard work and commitment, it's the ones with the biggest obstacles that we remember the most. Those are the jobs where tight budgets, short schedules, restrictive work sites, and other challenges push teams to a higher level of creativity and commitment.
The following HB projects demonstrate how owners, designers, and contractors joined forces in the face of challenge and emerged stronger for it.

Budget Shortfall: Taos County Justice Complex
Located on an 11-acre property, this facility included three linked structures organized around a central courtyard. Overall, the complex has 110,000 sq ft of administrative offices, courtrooms, and detention facilities. Due to the 2008 financial crisis, the owner faced a sudden drop in projected revenue. HB was tasked with value engineering the project even though construction was roughly 30% complete. Since most of the structure was either in place, or enroute, options were limited.
In the face of this challenge, the construction team reduced the cost by nearly 2.5% while still maintaining the capacity and design intent.

Site Space and Access Challenges: APS Sandia High School Math & Science Center
This project included construction of the new LEED Gold Certified 3-story, 61,512 sq ft Math and Science Building along with a new two-story 18,505 sq ft library.
With work occurring in the middle of a busy campus, the bid documents initially called for a site access route that cut through the campus in high pedestrian and vehicular traffic areas. This was a significant concern, as the school would remain operational throughout construction.
Rather than stick to the specified access point, HB proposed using a pre-engineered, temporary bailey bridge to cross a drainage channel adjacent to the site, which opened up access to a less-trafficked side street. By shuffling site operations around this dedicated entry point, HB eliminated impact to student and staff routing.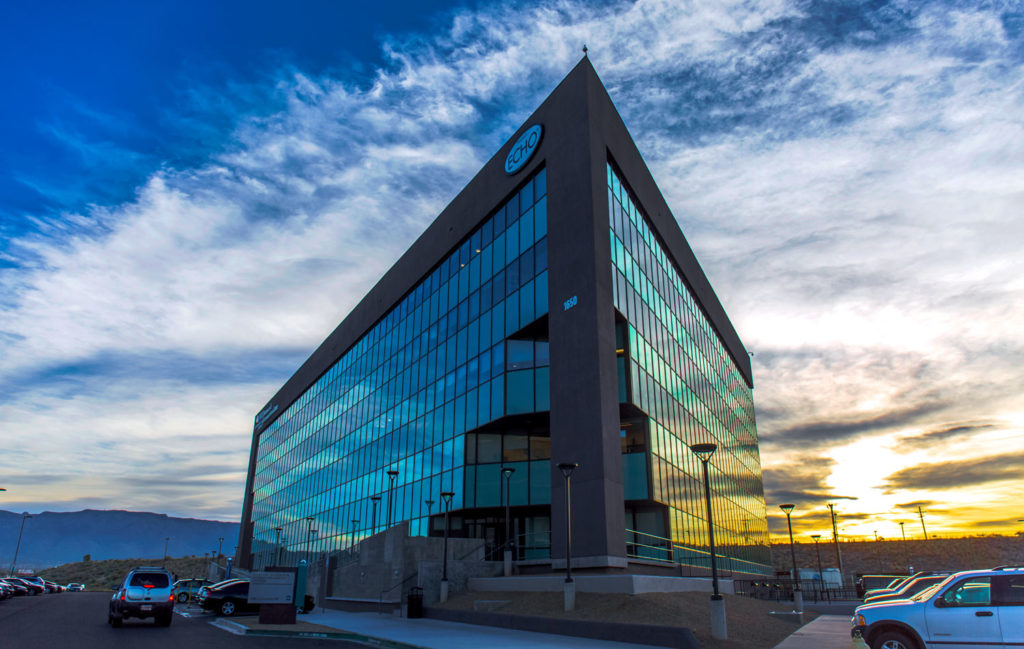 Existing Condition Challenge: UNM HSC Business & Communications Center
The UNM HSC Business & Communications Center was a five-story, 120,000 sq ft renovation of an office building shell for use by UNM Health Sciences Center.
The project's aggressive ten-month schedule was a challenge given the scope of work and potential for clashes between new and old building components. Through Building Information Modeling (BIM) and collaboration with subcontractors, the project was delivered six weeks ahead of schedule.
BIM was a key factor in fitting the new, modern HVAC system in the building, which had low ceilings. The HB team used extensive MEP coordination to identify above-ceiling conditions for both new and modified systems. At the beginning of the project, there were more than 500 collisions per floor in the model. As the project progressed, this number was reduced to just 1-2 collisions per floor, which were worked out on-site.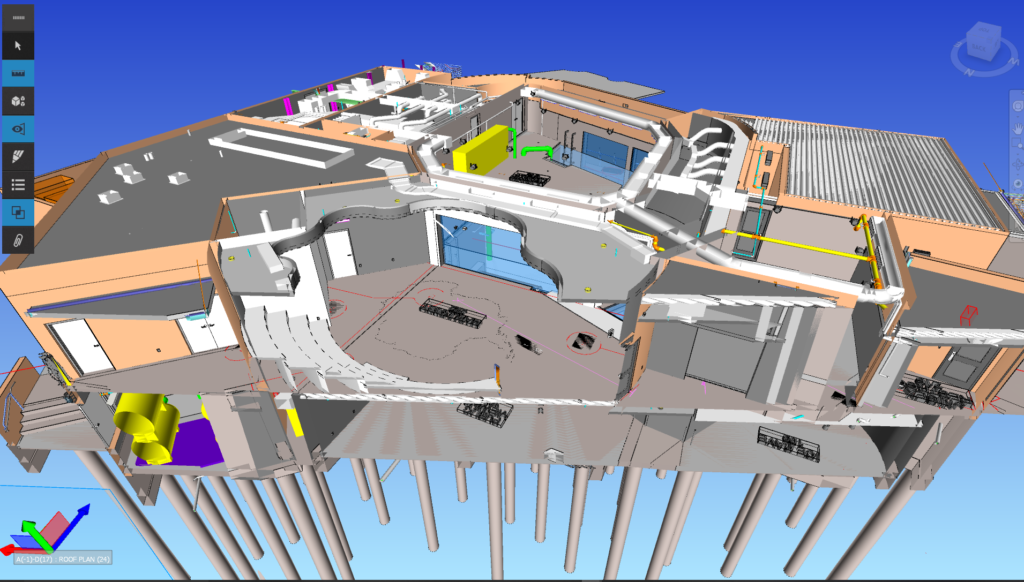 Novel System Installation: ABQ BioPark Penguin Chill
Every construction project is a prototype, as unique buildings, systems, and environmental factors ensure each job is the first of its kind. Nowhere is this more true than at the ABQ BioPark Penguin Chill, home to three species of penguins and the only facility of its kind in the Southwest.
Few facilities can house arctic penguins due to stringent temperature and life support requirements. At the Penguin Chill, complex MEP systems were situated in a compact 14,000 sq ft building footprint with multiple viewing levels and a 75,000-gallon water tank. Complicating matters, HB came into the project after design was 100% complete, meaning full constructability would have to be achieved as construction progressed.
To facilitate communication between the design team and the contractors, HB led Building Information Model (BIM) coordination with a team of highly capable specialty subcontractors. Coordination calls were held daily between foundation, structural, MEP, and life support installers to verify installation locations and methods. HB also used a robotic station to verify foundation and wall installations against the accurate model.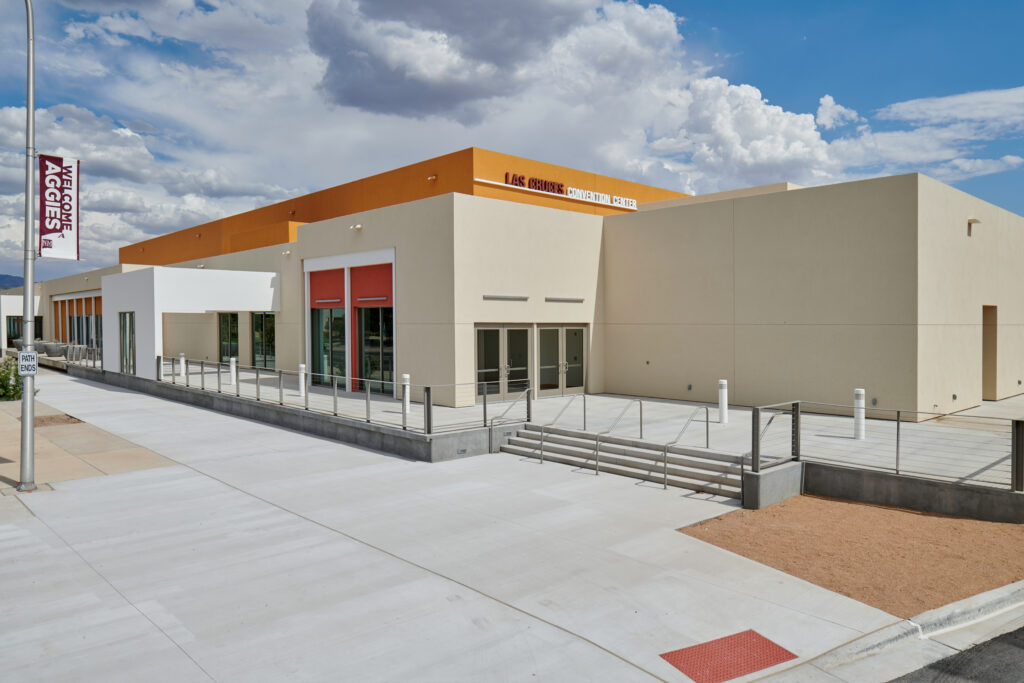 Responding to Setbacks: Las Cruces Convention Center
This 15,000 sq ft expansion project included new meeting space, support rooms, expansion of the lobby and reception areas, and site improvements.
Originally selected as the Construction Manager at Risk (CMAR), HB Construction entered into pricing negotiations in April of 2018. Previous pricing feedback identified a budget overrun of 40% in the late stages of design, with deadlines rapidly approaching. The management group for the center had already booked a major convention for August of 2019 and was dependent on the expansion space. After a comprehensive analysis and a commitment from all team members to make the project a reality, HB entered the project and immediately engaged in value engineering (VE) sessions with the owner and designer.
During the VE process, the original design firm notified the City they could no longer continue with the project. This complication left the future of the project in peril. In response, HB offered an alternative solution: convert the CMAR contract to Design-Build to create a cohesive team moving towards the same goal. After acceptance by the Owner, HB delivered preconstruction services and integrated design and construction work packages. The project finished within budget and in time for scheduled events.