New Mexico State University Devasthali Hall and University Art Museum was recently recognized by Engineering New Records 2020 Best Projects, an industry award program that selects the top construction projects in the nation. Judges criteria is based on building innovation, project delivery optimization, and sustainability.
Here's an inside look at what makes NMSU Devasthali Hall a 2020 Higher Education Award of Merit recipient:
HB Construction completed Devasthali Hall, a 51,000 sq ft facility for the New Mexico State University Art Department and University Art Museum. Named after longtime supporters of the arts community, Rama and Ammu Devasthali, the highly anticipated project breathes new life into the university's art program while greatly expanding arts education opportunities in the region. 
Devasthali Hall features specialized studios and multi-purpose areas for NMSU's diverse art and culture curriculum. Studios include both indoor and outdoor space for woodworking, painting, drawing, printmaking, sculpture, photography, ceramics, and jewelry-making.   
Exterior stone cladding and other custom finishes showcase the detail and quality at Devasthali Hall. When walking through the building, the display of specialty items and materials is astounding. From programmable color lighting to track-suspended partition walls, each item and finish required special attention.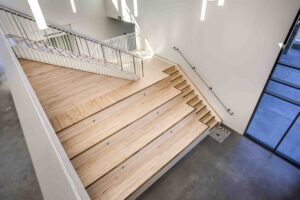 Overcoming Challenges with Teamwork
The construction of Devasthali Hall posed unique challenges. Active campus construction, combined with a hard move-in deadline, required detailed planning and coordination. HB worked with NMSU to devise a two-phase plan to meet the fall semester occupancy date. After the first phase was complete and students moved in, HB built temporary walls to separate active areas while the museum portion was finished.  
During construction, our team used Ground Penetrating Radar (GPR) to plan and execute utility tie-ins. This technology was used to capture utility locations and was later imported into the project model as a baseline for accurate tie-ins. The design and construction team used the information to re-route underground chilled water and steam lines from the university's central plant. This change to the original design eliminated clash with the building's structural foundation.  
The specialty classrooms and art museum required detailed planning and installation methods. Communication between subcontractors, suppliers, and subject matter experts was critical to ensuring each unique component was built to perform.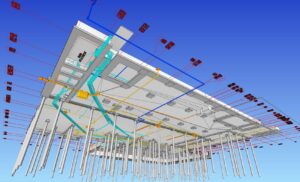 Contribution to the Community
Since 1972, NMSU's art department has held classes at Dan Williams Hall, a former gymnasium. With the 82-year-old building hindering their ability to grow and attract students, NMSU needed a dedicated space to offer quality art education. That's when community leader and visionary Ammu Devasthali stepped in to spearhead the construction of the new building. After the building was approved, she helped raise private donations, promoted the General Obligation Bond, and provided a monetary gift from the Devasthali family. The combined efforts, backed by public support, made the art department's vision a reality. Now, the building's unmatched training, collaboration, and support spaces respond to their needs and beyond. Devasthali Hall serves the arts and culture community while inspiring future generations of creatives and media professionals.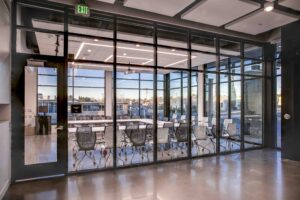 Recruiting

 Students
Arts and culture play a large part in New Mexico's economy. Many of the local jobs are related to art, culture, and the growing media industry. Before the vision of the new building, students did not have access to quality facilities. Devasthali Hall now brings opportunity by providing state-of-the-art tools to prepare students for the creative workforce. 
A Celebration of Culture
The new University Art Museum includes an art gallery, museum, conservation facilities, and exhibit space. The museum's mission of creating an academic art environment while celebrating the community can now be supported with the capabilities the new facility offers. As a steward of culture, it respectively houses the country's most extensive collection of Mexican retablos and a growing collection of contemporary art. The facility will also feature temporary curated exhibitions, like the inaugural exhibition, Labor: Motherhood & Art in 2020.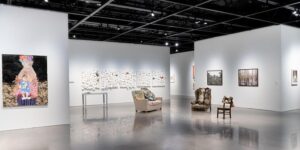 Aesthetics Meets Functionality
Designed to support an immersive learning experience and showcase art, Devasthali Hall features a variety of specialized spaces. Art history, art conservation, ceramics, drawing and painting, graphic design, metalsmithing, jewelry, photography, printmaking, and sculpture are all housed at the facility. Each of these unique specialties had detailed programming and functionality requirements. Specifically, the ceramics, photography, and metalsmithing workshops required specialized support equipment and MEP systems. High-performance MEP features include ceiling-mounted snorkel exhaust fume hoods to ventilate work areas. Humidity and air controls were installed in the ceramics studio and art conservation lab to regulate the environment for sensitive materials. The museum, which displays traditional collections of art, features a specialty dry fire suppression system that uses chemicals to extinguish flames without damaging the art.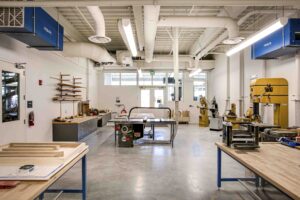 Aside from the robust systems, the facility's aesthetics match its advanced capabilities. The exterior is clad in anchor stone masonry veneer and has clean lines that draw your interest to the building's modern architectural design. At the top of the structure, there is a lantern-like component with programmable lighting that can change colors to celebrate school pride. Inside, the multi-purpose collaboration space has a bleacher area with custom woodwork that can be used as a collaboration, lecture, or exhibition space. A decorative metal staircase leads to the upper floor, where specialty acoustical ceiling clouds are suspended above. Each classroom features custom details specific to its craft.  For example, one workshop has custom metal casework and epoxy resin counters that can stand the test of time.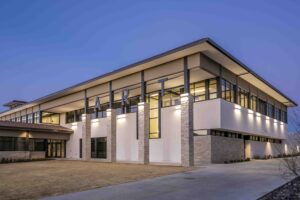 Find out more about other award-winning HB projects here.