Three HB projects were recently recognized by Engineering News Record Best Project Awards, an industry award program dedicated to honoring the best construction projects in the U.S. The honors are a testament to the commitment of the project teams, owners, and communities involved in each endeavor.
Each project advanced industry best practices in its own way, from the formation of integrated project teams to the use of new materials and methods. Here's a deeper look at what made each project unique: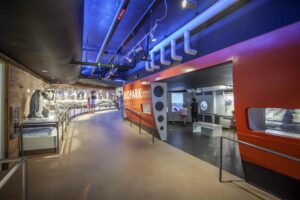 Albuquerque BioPark Penguin Chill
Best Project, Sports/Entertainment Category
The penguin "Chill" exhibit is truly the first of its kind in the Southwest. The facility takes visitors on a journey to Antartica, complete with a sprawling penguin habitat and the Southern Lights. The exhibit's 75,000 gallon water tank varies in depth from five to twelve feet, with both above-ground and underwater guest viewing areas. As you walk from one area to the next, guests can see the birds swim beneath their feet. Inside the penguin habitat, hand-crafted rock and snow falling from the ceiling emulate the Arctic. The entire exhibit processes light from day to night with seasonal lighting cycles, which emulates the penguins' natural habitat.
HB coordinated with the BioPark, Van H. Gilbert Architects, and consultants to pack a host of specialty MEP and life support systems into a compact, 14,000 sq ft building. Building Information Model (BIM) coordination between HB, designers, and system installers was instrumental in this effort. Quality planning and follow-through was key to delivering the facility's unique layout, systems, and finishes.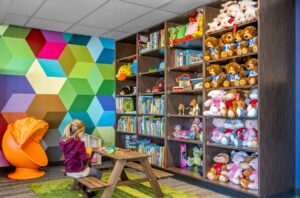 CYFD Children's Wellness Center
Award of Merit, Government/Public Building Category
This project transformed an aging office campus into the consolidated operational headquarters for New Mexico's Children, Youth, and Families Department (CYFD). The resulting facility houses CYFD's Bernalillo County receiving center, protective services, family visitation space, statewide central call center, juvenile justice, IT, training academy, and modern office space for over 500 employees.
The Children's Wellness Center is a trauma-informed environment that serves children who are victims of child abuse or neglect. It is designed to reduce additional traumas and stressors that children experience when involved in the child welfare system. The facility provides staff who work in this emotionally and physically taxing field a safe and secure working environment where they can thrive and decompress. The facility also presents family visitation space as parents work with CYFD to reunify with their children, with special safety considerations for all users.
The state chose Design-Build in order to fast track work and keep scope in line with their budget. After a robust three-round selection process, they selected HB Construction as their Design-Builder, who teamed with Dekker/Perich/Sabatini Architects. Work included dramatic architectural changes, MEP upgrades, new finishes, furniture and equipment procurement, a site infrastructure overhaul, and other critical activities.
The project is notable for the achievement of a highly compressed, 164-day design and construction schedule. The deadline for completion was driven by the agency's expiring lease at another location.
The project team set itself apart by quickly uniting around a shared purpose, advancing Design-Build best practices, and leveraging differentiators unique to each firm.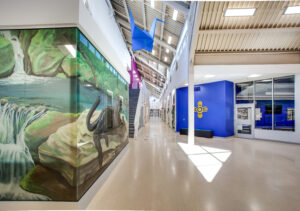 Jal Public School
Award of Merit, K-12 Education Category
The Jal Bond Project was a K-12 campus renovation for Jal Public Schools (JPS). The campus-wide improvements included new construction of the Elementary and Junior High School facility, with significant renovations to the Senior High School's main building. The project also included construction of two new gymnasiums, central office, amphitheatre, and natatorium. In total, the project consists of over 154,000 sq ft of new and renovated space, completed in multiple phases to allow school operations to continue.
The consolidated campus features new classrooms, state-of-the-art science and computer labs, and a culinary arts facility. The design breaks away from traditional classroom design, giving students a more flexible and fluid learning experience. Informal open spaces located throughout the school help facilitate a social and creative learning atmosphere. Designed by Parkhill, Smith & Cooper, the facility reflects specific needs communicated by Jal teachers and community members.
Adjacent to the school, a replacement aquatic facility was included in the project. The facility consists of an indoor lap pool with a retractable roof and an outdoor aquatic pad with a water slide. The Jal Aquatics Center is the only facility of its kind in the city and will be open to the public for recreation and aquatic rehabilitation therapy.
For more information about the awards visit: enr.com