Hands-on learning will play an expanding role in preparing tomorrow's students for high-demand careers. By breaking away from the traditional classroom experience, purpose-built training facilities nurture skills and habits that translate to modern workplaces. These facilities make up a growing portion of capital investment for high schools and universities. Accordingly, there are critical factors that determine new project success, longevity, and usefulness. 
Community Engagement 
Early project conception—the buy-in stage—is critical to clear the way for funding and commitment from stakeholders. Engaging with local community and business leaders is a significant opportunity at this stage. Local industries, from medical to energy to auto repair, have a clear stake in investing in its future workforce and recruiting local talent. In addition to financing, business leaders can provide the expertise that helps shape curriculum, building programming, and even establish formal pipelines to employment.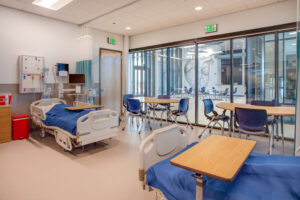 Programming and Design 
Advanced training facilities connect innovative technology with hands-on experiences. With technology continually changing the way lessons are taught, it is imperative that classrooms can evolve with ever-changing program requirements.  Training facilities require a variety of learning spaces to meet the needs of the technical curriculum. Types of spaces include skills labs, integrated classrooms, simulation labs, training rooms, conference rooms, specialized classrooms, and multi-purpose space.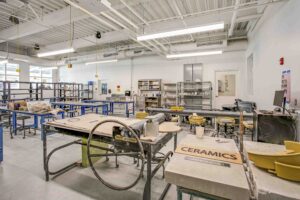 Flexibility is critical for the long-term success of an evolving training program. Emerging technologies and non-traditional teaching styles call for a building that can fill the program needs for years to come. Multi-purpose and flex space can accommodate these diverse learning opportunities. The use of modular wall, floor, and furniture solutions can also help facilities quickly adapt to changing offerings or program participation.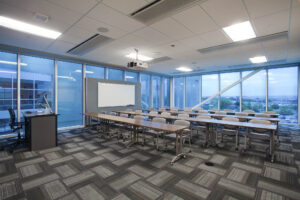 The ability of a learning environment to foster productivity and wellness is a critical consideration. A facility that positively influences students can include environmentally preferable solutions such as LED and daylight harvesting, and high-performance HVAC systems that allow for extensive zone control. While LEED® certification can ensure these requirements are met, Owners should consider a wide range of certification alternatives. For example, the Fitwel® system provides a cost-effective certification that emphasizes not only sustainability, but also health and wellness.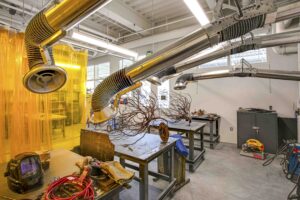 Choosing a Project Delivery Method for Your Facility 
Selecting a project delivery method is one of the most important decisions owners make while planning capital projects. While Design-Bid-Build is the A/E/C industry's traditional delivery method, integrated project delivery provides clear benefits to all stakeholders. Construction Manager-at-Risk (also known as CM/GC), Design-Build, and other integrated methods offer the following advantages:
Integrated Design 
Early involvement of a General Contractor/Construction Manager creates opportunities for greater certainty in construction outcomes. Experienced contractors provide valuable services during design that improves planning, constructability, and building quality. A proficient Design-Builder/Construction Manager can also help Owners design to the project budget, rather than budgeting to design. This level of budget leadership ensures facility costs stay at or under budget throughout design, paving the way for financial certainty.   
Schedule Compression
Time is money. There's a proven correlation between integrated delivery methods and construction efficiency. According to a recent Construction Industry Institute study, Design-Build construction is 36% faster than Design-Bid-Build, the traditional procurement method. This efficiency takes the shape of clarified performance requirements, streamlined material procurement, and fewer changes. For specialized training facilities, including medical environments, strategic sourcing of key products can eliminate project delays. 
Virtual Design Communication
3D and other tools are transforming the way projects are delivered. Design and construction firms that collaborate through Building Information Model (BIM) technology can expedite design, eliminate construction issues, and even reduce long term operation and maintenance costs. The most standout benefit of virtual design, though, is its value as a communication tool. A visual representation of layout, systems, and even products makes Owner design decisions easy, at a time when the cost of changes is minimal. Incorporating end-user and stakeholder viewpoints, which translates into greater facility usefulness, is also streamlined through the use of the virtual model. Taken to the next phase, coordinated facility models create a foundation for the proper installation of specialty equipment in technical facilities.
Long-Term Thinking
Incorporating the energy efficiency and maintenance perspectives of contractors, including MEP/F, is a can't-miss opportunity that can only be achieved through integrated delivery. Installer experts have valuable insight on what systems and products will support facility vision while also ensuring a maintenance plan that matches Owner capabilities. Welding equipment, hospital-style headwalls, and advanced presentation systems all benefit from long-term analysis. This is especially true for the renovation of existing facilities, where infrastructure must be brought up to modern standards.
Selecting the Right Team  
Establishing well-defined facility objectives upfront can make or break your budget, as design changes become more costly as the process advances. A team that insists on transparency will put you in the driver's seat to make fully informed decisions grounded in your long-term goals. 
To learn more about integrated project delivery methods, read our Owning Design-Build Guide.