For many firms, the end of the year is a time of intensive planning. Goals are set, budgets are finalized, and schedules are outlined. Yet there's one aspect of planning many companies overlook: the opportunity to take a clear-eyed, comprehensive look at what happened over the previous year. While this includes capturing lessons learned, it also means identifying what worked best, then applying it to your organization.
A quick glance in the rearview mirror is not enough.
For HB, end-of-year planning is about analyzing project performance with an eye on continual improvement. It means identifying the project strategies that 1) uncovered value for our clients, 2) generated operational efficiency, and 3) created opportunity.
Our highlighted projects for 2019 pushed the envelope in project development and delivery. They achieved industry accolades by demonstrating what smart, motivated management looks like. Most importantly, the projects show what it takes to thrive in the complex, group challenge that building construction represents.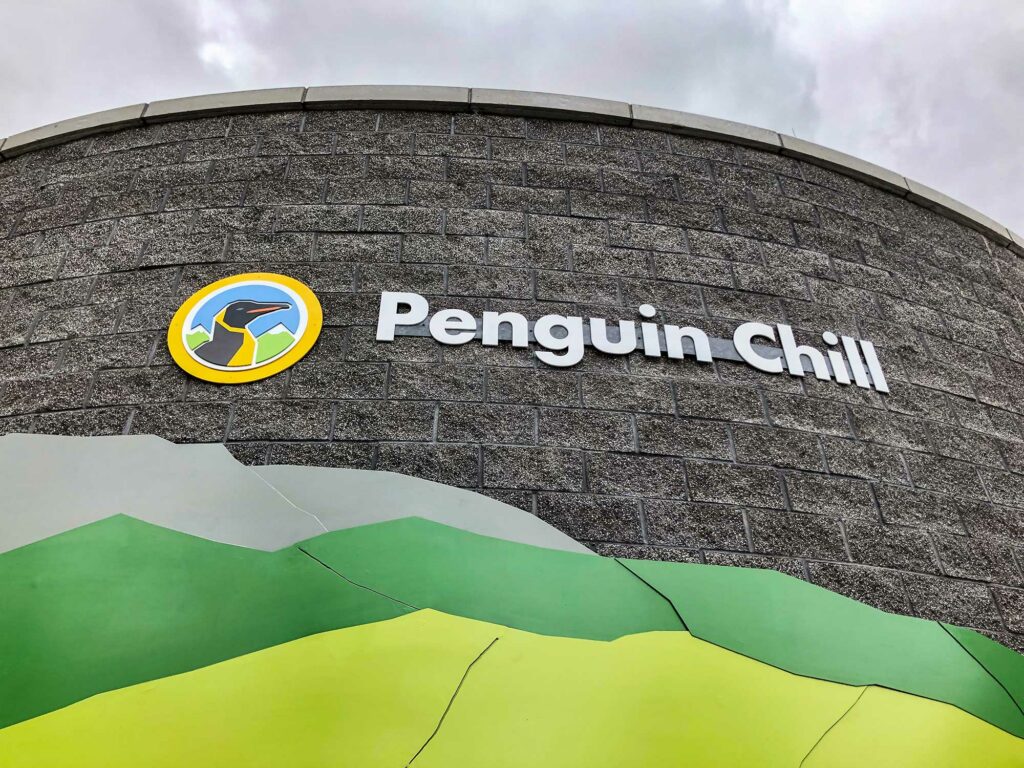 The Albuquerque BioPark's newest exhibit takes visitors on a journey to Antarctica, where they can join King, Macaroni, and Gentoo penguins in a stunning setting. The Penguin Chill, designed by Van Gilbert Architects and built by HB Construction, is the first exhibit of its kind in the Southwest. The building is packed with awe-inspiring features, including a 75,000-gallon water tank, an ice cave, a ceiling replicating the Southern Hemisphere's night sky, and even an interactive research submarine. Outside, an elevated viewing deck and café overlook the zoo's main park. The project is a tribute to thoughtful planning, detailed design, construction teamwork, and a multi-year commitment to getting the job done right.
As expected, bringing penguins to the desert wasn't without challenge. The unique systems required to create a safe, sustainable habitat made this one of the more complex construction projects in our state's history. A massive water tank, life support system, shotcrete rockwork, deep foundation system, prestressed precast concrete, and other unique elements were packed into a three-level, 14,000 sq ft footprint. The complex was designed with organic curves, few corners, and fluid elevation changes. Another degree of difficulty was added through the need to keep surrounding exhibits open while delivering heavy equipment and materials into the center of the BioPark.
The on-site team, led by HB Superintendent Bob Beckley, coordinated daily with BioPark staff in order to maintain business as usual for staff, visitors, and animals. Day-to-day communication and a commitment to safe practices were essential to minimizing construction impact. Pre-task planning for excavations, lifts, and other activities proved crucial to contractors working within the constrained site.
The project team applied BIM technology extensively to identify and correct spatial issues before they were encountered in the field. In particular, mechanical and plumbing engineers and contractors worked through daily coordination in order to finalize locations.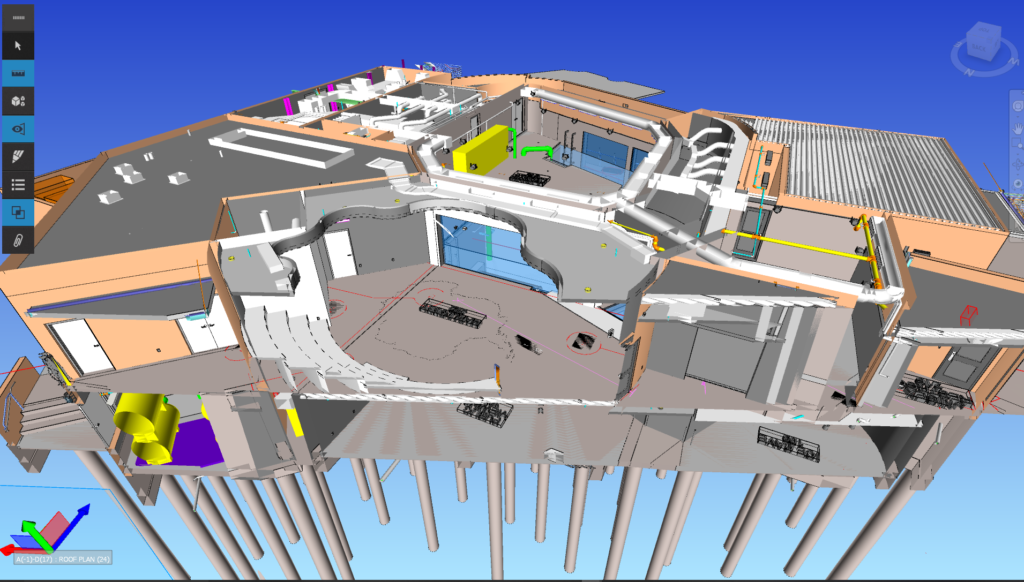 Construction technology was also leveraged in the field. The use of a Total Robotic Station allowed for an efficient layout of foundations and walls, while ground-penetrating radar was used to plan excavations and utility work around existing infrastructure.
Walking through the facility, one can't help but feel a sense of wonder, both at the built environment and at the skill, expertise, and dedication of all the people who shaped it.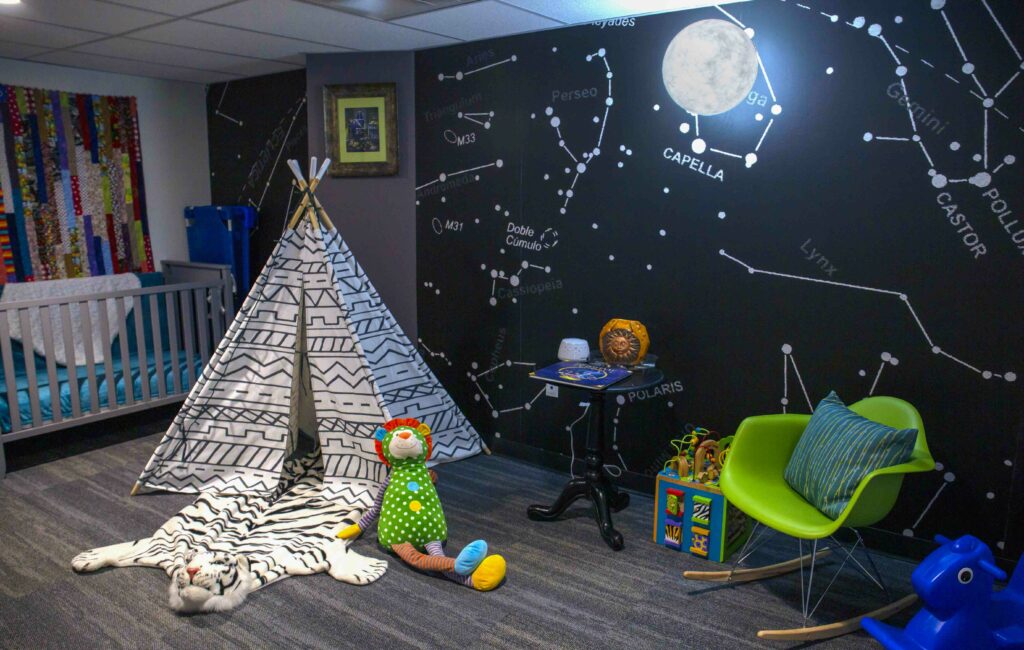 This project transformed the aging Pinetree Corporate Campus into the consolidated operational headquarters for New Mexico's Children, Youth, and Families Department (CYFD) in Bernalillo County. The resulting Children's Wellness Center (CWC) is a monument to teamwork, creativity, and hard work.
The CWC is a trauma-informed environment that serves children who are victims of child abuse or neglect and is designed to reduce additional traumas and stressors that children experience when involved in the child welfare system. The facility provides staff who work in this emotionally and physically taxing field a safe and secure working environment where they can thrive and decompress. The facility also presents family visitation space as parents work with CYFD to reunify with their children, with special safety considerations for all users.
The 150,000 sq ft facility houses an array of CYFD functions, including receiving center, protective services, family visitation space, statewide central call center, juvenile justice, IT, training academy, and modern office space for over 500 employees. The design incorporates thoughtful security features to protect children and families and promote healthy interaction between all parties.
The State of New Mexico chose Design-Build in order to fast track work and keep scope in line with their hard budget. After a robust three-round selection process, they selected HB Construction as their Design-Builder, who teamed with architect Dekker/Perich/Sabatini. Work included dramatic architectural changes, MEP upgrades, new finishes, furniture and equipment procurement, a site infrastructure overhaul, and other critical activities.
The project is notable for the achievement of a highly compressed, 164-day design and construction schedule. The deadline for completion was driven by the agency's expiring lease at another location. The project team set itself apart by quickly uniting around a shared purpose, advancing Design-Build best practices, and leveraging differentiators unique to each firm, all under public pressure.
In order to accomplish the tight renovation schedule, site contractors worked double shifts, meaning construction activities took place from 5 AM to around 11 or 12 at night. In addition to the Project Superintendent, HB Construction stationed a dedicated Safety Coordinator on site at all times. HB also deployed self-performing framing, flooring, casework, and finish contractors in order to maintain greater control over the schedule.
The team featured diverse stakeholders, including numerous state agencies, who came together to deliver a highly functional operations center under a tight budget. CYFD Project Director John Jaramillo described it best:
"There are rare instances of something of this magnitude and importance coming together within state government and I for one, am extremely proud of what we were able to accomplish. I truly believe that if it weren't for the heart-felt common vision of what we were trying to accomplish for the children of NM, this project wouldn't have been as successful as it was."
Altogether, the State was able to negotiate purchase, program, design, build, and move 400 employees in less than six months.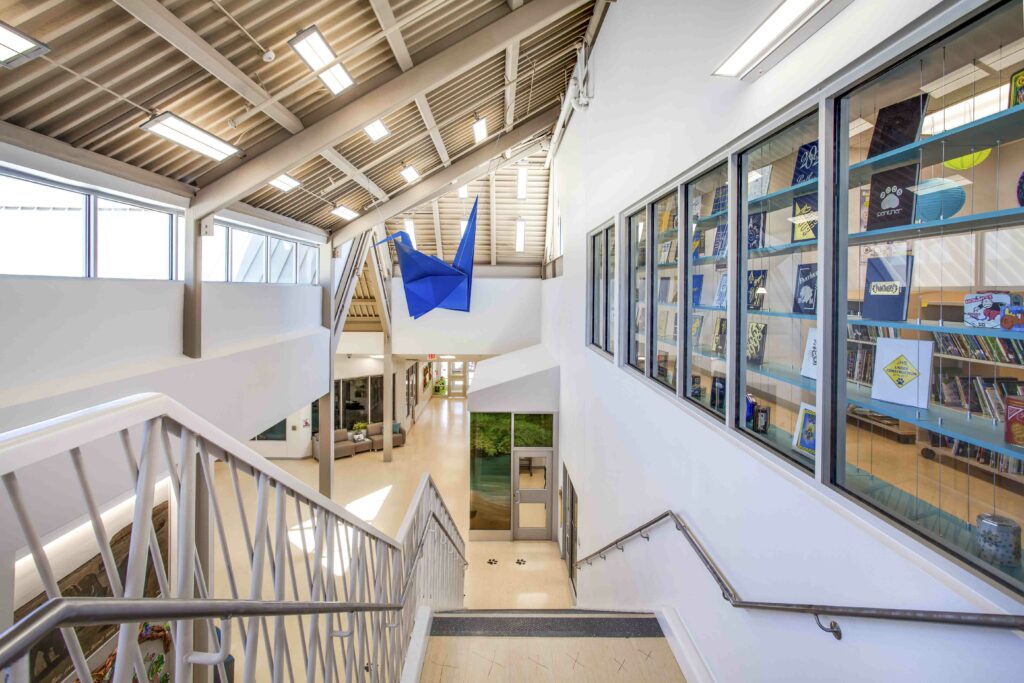 The Jal Public Schools Bond Projects included the overhaul of the system's K-12 campus. The improvements included the construction of a new elementary and junior High school facility and significant renovations to the Senior High School's main building. HB also built two new gymnasiums, a central office, an amphitheater, and a community aquatic facility. In total, the project consists of over 154,000 sq ft of new and renovated space.
Designed by Parkhill, Smith, and Cooper Architects, the consolidated campus features new classrooms, state-of-the-art science and computer labs, and a culinary arts facility. The elementary school was designed with four learning neighborhoods that allow each classroom access to a commons space for project work, collaboration, self-based learning, and one-on-one instruction. The Pre-K neighborhood has a smaller commons that is used as a life skills space to teach the basics of properly cooking, eating and cleaning up after themselves. The Kindergarten, 1st-2nd and 3rd-5th grade neighborhoods are set up more similarly to media centers with access to physical books, technology and a wide range of furniture to help facilitate the ever-changing learning needs of students.
Renovations to the high school and middle school included classrooms, offices, hallways, computer and science labs, as well as a commons area that helps separate the middle school and high school students. The common area is highlighted by a central column wrapped with several LED rope lights, which are controlled with a remote. The column is covered with acrylic, heat-formed material with a translucent finish around the original brick support column. The space has become an easy way for students to meet in between or during periods and lunches with tables and chairs surrounding the lit-up column. And there are even charging stations for devices that are connected to the same power as the lights.
Overall, the design for both facilities breaks away from the traditional classroom concept, giving students a more flexible and fluid learning experience. Informal open spaces located throughout the school help facilitate a social and creative atmosphere.
Adjacent to the school, a replacement aquatic facility was included in the project and consists of an indoor lap pool with a retractable roof, and an outdoor aquatic pad with a water slide. The Jal Aquatics Center is the only facility of its kind in the city and will be open to the public for recreation and aquatic rehabilitation therapy.
Due to Jal's isolation from major cities, finding qualified labor and getting material to the site presented a significant challenge for the project team. To overcome the lack of manpower and resources in the area, HB Construction advertised positions in Jal newspapers, online, and participated in local job fairs. For positions that were unable to be filled by local subs, qualified candidates were relocated to Jal for the duration of the project. HB Construction's project team moved to Jal and used their knowledge of the area to help subcontractors find housing accommodations. Facilitating times to connect as a team helped HB and subcontractors stay on the same page throughout almost three years of construction.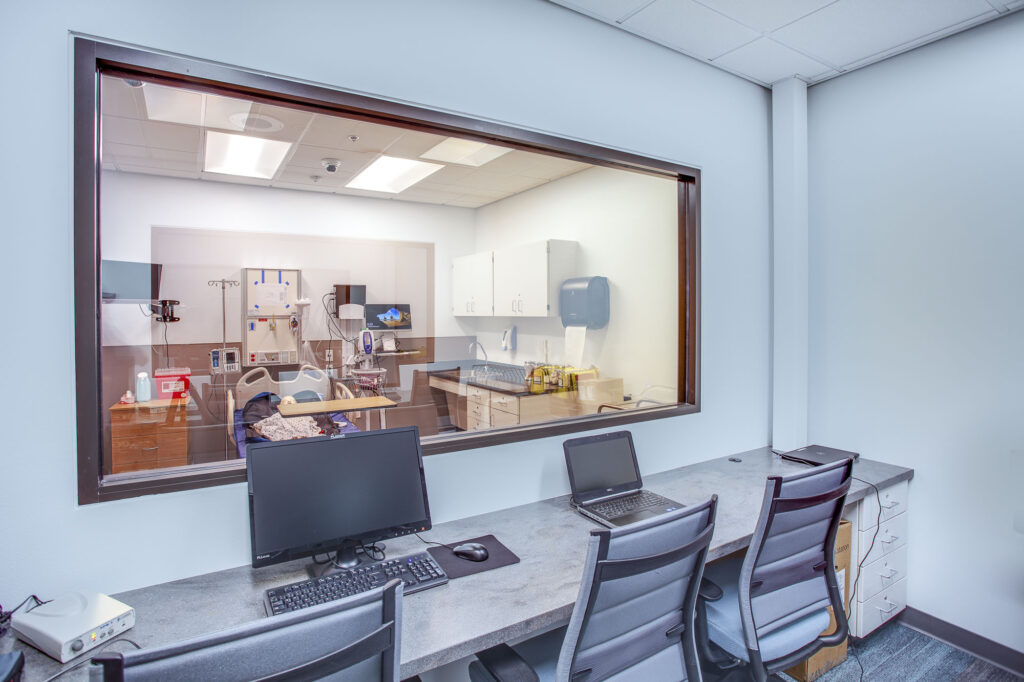 New Mexico Junior College Allied Health Building – Innovation
New Mexico Junior College's new Allied Health Building is a 23,000 sq ft facility that houses the college's renowned nurse training program. NMJC identified an ambitious vision for the project, including bridging the facility with the nearby hospital, creating a "wow" factor through education on display, and promoting recruitment and retention of students and nurses. The design and construction team, led by Dekker Perich Sabatini and HB Construction respectively, aligned behind this vision to deliver a world-class training facility.
The LEED Silver building features sophisticated simulation equipment, skills labs, and integrated classroom space. The interior mimics a real hospital, including 20 beds with functional headwalls, four simulation labs with control rooms, and computerized pharmaceutical equipment. 2,000 square feet of simulation labs, control rooms and more, provide students with realistic situations like heart attacks, seizures, pregnancy emergencies, and more. In addition to training high-demand nurses, the facility will offer continuing training and certification for local providers and community members.
It's apparent once entering the building that the program prioritized transparency and collaboration. The centrally located student lounge doubles as an access point for the other four program components and creates a collision space that promotes interaction. The simulation area represent realistic medical practice, while the reception area has visual supervision of the building's main access points. Together, these drivers led to the creation of a functional and flexible floorplan that provides the required adjacencies, separates loud and quiet spaces, and is easy to secure and supervise.
The early stages of construction required the excavation of a 1,250-foot-long by 6-foot-deep mechanical line that ran across campus and through a major access road. Significant traffic control measures were taken to ensure accessibility to the surrounding campus and hospital. Traffic was diverted around the main Thunderbird loop and re-routed through a parking lot during the construction.
The new building is tied to the college's Central Plant for heating and cooling, adding efficiency to campus maintenance and operations. Tie-ins to the basement central plant were aided by the use of 3D scanning technology and BIM model coordination. Field installers worked directly with HB Construction and subcontractor BIM professionals to create an accurate tie-in plan for these utilities.
The building's exterior German terra cotta cladding required a seven-month lead time and was ordered before the foundation was complete. The specialty material order left no room for error and the project team successfully executed the building to match the submittals and design specifications.